Anti-acne acid peel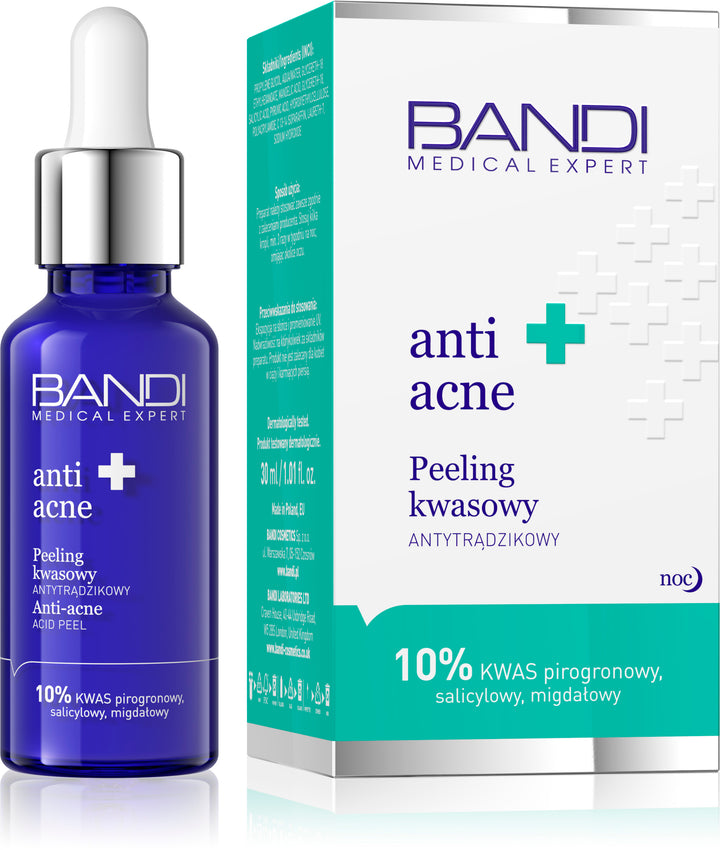 An intensive formula with exfoliating and matifying properties. The three active acids prevent all causes , blackheads and skin imperfections. Thanks to its depigmentation properties the formula also has a positive impact on eliminating discolorations.
10% pyruvic, salicylic, mandelic acid
Confirmed effects:
100% Matted complexion
100% improved overall appearance of the skin
Evaluation of the efficacy of the product by test persons on the basis of in-vivo tests carried out in an independent laboratory after 2 weeks of use.
How to use:
The formula should always be used in accordance with the manufacturers indications. The Anti-acne acid peel should only be applied locally on the skin.
Contraindications:
Exposure to the sun and UV radiation. Hypersensitivity to any ingredient of the formula.
Avoid contact with eyes and mucous membranes.
The product is not recommended during pregnant or brest feeding.
INCI:
Propylene Glycol, Aqua/Water, Glycereth-18 Ethylhexanoate, Mandelic Acid, Glycereth-18, Salicylic Acid, Pyruvic Acid, Hydroxyethylcellulose, Polyacrylamide, C 13-14 Isoparaffin, Laureth-7, Sodium Hydroxide
Active Ingredients:
Mandelic Acid, Pyruvic Acid, Salicylic Acid