Anti-rouge acid peel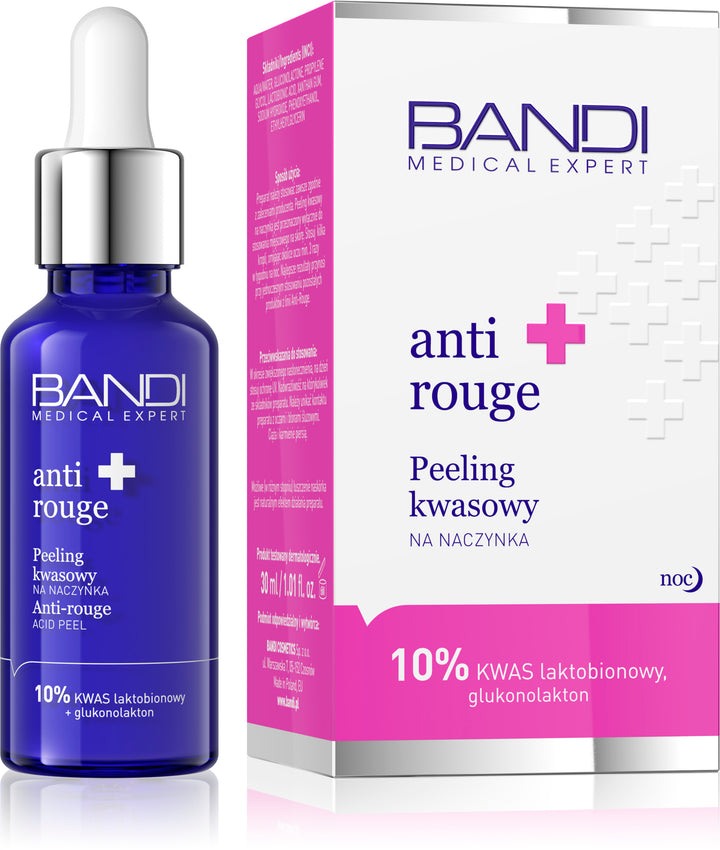 An innovative formula designed for exfoliation of capillary skin.
The polyhydroxyacids used help soothe the skin, allowing the formula to be suitable for the care of sensitive skin types. Through its gentle exfoliating activity and strong antioxidant properties it refreshes, brightens the skin and restores its shine. The tendency of gluconolactone and lactobionic acid to bind water molecules also results in increased hydration of the skin and reduces its roughness.
Indications for use:
Capillary skin requiring stinging and color improvement
Confirmed effects:
100% Even skin tone
100% Smoothed skin
Evaluation of the efficacy of the product by test persons on the basis of in-vivo tests carried out in an independent laboratory after 2 weeks of use.
How to use:
The formula should always be used in accordance with the manufacturers indications. The Acid peel should only be applied locally on the skin. Apply a few drops avoiding the eye area, min. 3 times a week at night.
For best results use with other Anti-Rouge line products.
Contraindications:
Exposure to the sun and UV radiation. Hypersensitivity to any ingredient of the formula.
Avoid contact with eyes and mucous membranes.
Due to the nature of the product we recommend performing a skin test before the first use.
Apply a small amount of the product on the skin around the jawline, and observe the immediate reaction and also after 1h, 8h and 24h. In case of strong irritation or the occurrence of symptoms like rash, persistent, erythema, itching, swelling, effusion, refrain from using the products on the entire face.
INCI:
Aqua/Water, Polysorbate-20, Propylene Glycol, Niacinamide, Panthenol, Troxerutin, Pueraria Lobata Root Extract, Menaquinone-7, Butylene Glycol, Xanthan Gum, Disodium EDTA, Caprylic/Capric Triglyceride, Parfum/Fragrance, Phenoxyethanol, Ethylhexylglycerin
Active ingredients:
gluconolactona, ácido lactobiónico.